If you use an ad blocker on YouTube, you may see a new message the next time you access the website. YouTube reached a total of more than 80 million paid subscribers in November last year. 30 million of these subscribers were added in 2022 only. Also Read - No, Google won't delete inactive YouTube accounts with videos
That said, YouTube has been experimenting with ads for a while now. Last year, YouTube tested showing 5 unskippable ads to free users. Now, a Reddit user spotted another experiment where YouTube is banning ad blockers on the site. Also Read - YouTube Premium introduces new features with higher quality 1080p video
Google confirms YouTube ad blocker ban
Reddit user Sazk100 spotted this screen on YouTube and posted it in the YouTube subreddit. At first look, it seems like the screen gives you only two options, 'Allow YouTube Ads' or 'Try YouTube Premium.' It means you can either disable your ad blocker or pay to skip ads. Also Read - YouTube expands 'Analytics for Artists' tool to help artists measure their performance
However, there is a third option that you can use in case you see this screen. There's a cross button at the top-right corner, which means you can close the box without doing anything else. This pattern is similar to the other cookie prompts that you just close without accepting or rejecting the cookie policy.
One of the moderators, LightCodeGaming confirmed this is YouTube's latest experiment. They posted "Yes, this has been confirmed as an experiment by YouTube, confirmed by a YouTube employee that reached out to me." It means that the feature is in testing and you may see this screen sooner or later.
Now, before you go out to boycott YouTube, you should note that this is an experiment, and the actual implementation could be far from it. The platform could also just end up scrapping this prompt and never using it in the future.
Should I get YouTube Premium?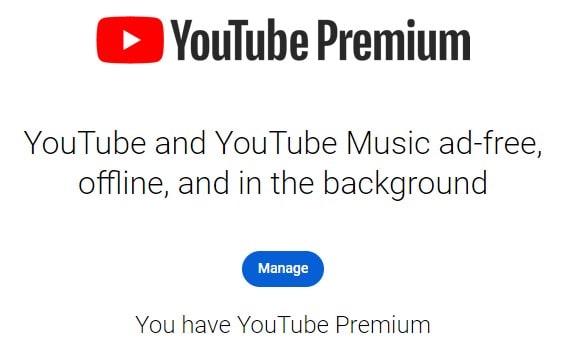 YouTube is a great platform with a vast library which is available to free as well as paid users. Here are some features that you get when you buy YouTube Premium. If you see yourself using these YouTube Premium features, you should consider subscribing to it:
Ad-free videos are the first thing that happens when you get Premium. YouTube will not show you any ads at any point in the videos.
Download and play offline is another cool feature for paid users. If you're travelling and need to save content to watch, you can download videos to play offline without an internet connection.
Continue Watching comes in handy if you close a video mid-way and want to resume it later. You can pick it up from any of the devices where you're logged in with the same account.
PiP mode and background play are also handy features if you like to multitask. Enabling PiP mode lets you watch the video as a pop-up while you continue to use other apps on your phone. Background play lets you minimize the YouTube app to listen to the audio only.
You can also use smart downloads to automatically download recommended videos. Attend Afterparties and live chats, and get early access to experimental features with premium.
Which is the best YouTube Premium plan?
You can get YouTube individual plan for Rs. 129/month and a family plan for Rs. 189/month and share it with 5 other users. If you want to save money, you can get the annual plan that costs Rs. 1290/year for the individual plan. YouTube Premium student plan is also available at Rs. 79/month, but you'll have to show your student ID to get it.
You can check out all YouTube Premium plans and select the right one here.
---
---