It's been over a month since the country has been watching the TATA IPL 2023, in the comfort of their homes on Star Sports. With every year that passes, the experience of watching the game on your TV gets more immersive and spectacular.
For the second consecutive year, the IPL cricket tournament is being broadcasted with Dolby Atmos on Star Sports1 HD and Star Sports1 Hindi HD. That's correct, Dolby Atmos is live for sports like cricket and if you have been watching IPL matches on Star Sports, you might have noticed some audio enhancements in the overall experience.
That's Dolby Atmos in the play. To learn more about Dolby Atmos for sports we visited the Star Sports office in Mumbai. If you are interested to know how Live audio mixing for sports works, how Dolby Atmos works, and what's the future of audio-visual experiences on Star Sports broadcast channels, continue reading this article.
In a brief conversation with Jayant Shah, Director Apps & Solutions Engineering at Dolby Laboratories, we discussed almost everything about audio and video for Live Sports like Cricket at Star Sports.
So, without further ado, let's start with the Q&A.
How was your experience of working with Star Sports?
Since Dolby and Disney Star had been working together for years, Shah said that the experience of working with Star Sports has been phenomenal. Starting with Dolby 5.1 to now Atmos, the journey has been all about elevating the audio experience for the viewers at home and giving them a stadium-like experience in the comfort of their homes.
Since Dolby and Star Sports had a long-healthy partnership, how did the idea of bringing Atmos to cricket (like IPL) evoke?
For the second consecutive year, Dolby and Disney Star are bringing Dolby Atmos to cricket with IPL, we asked the two brands how the idea for this collaboration came about.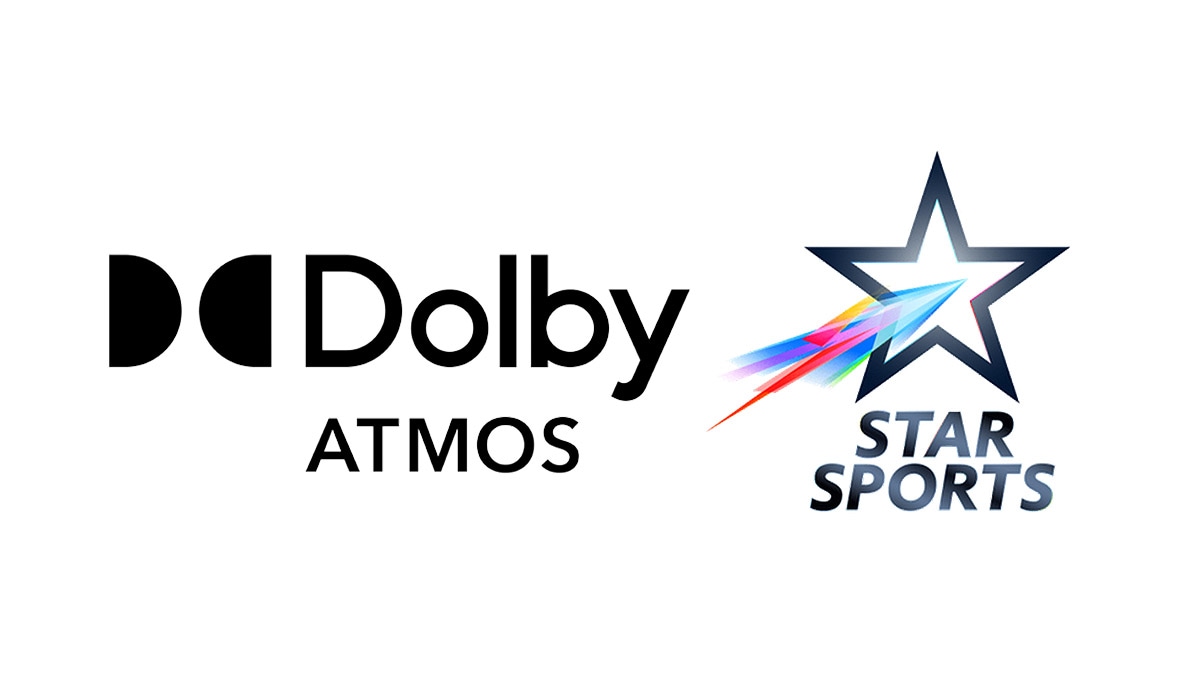 Shah said that the idea of bringing Dolby Atmos to cricket came up simply because we thought to elevate the experience for the home audience and provide an enhanced audio experience while watching sports at home.
So far, there has been Dolby 5.1 which required a set of speakers to enjoy the audio. However, with Atmos, multiple speakers are not necessary. Even a simple stereo speaker setup of a Dolby Atmos-enabled TV or of your connected Atmos-enabled audio system is enough to get the immersive experience.
Can you tell us about the Live mixing process of Dolby Atmos for sports?
Shah said that the Live mixing process is extremely creative. At the outset, the microphones placed in the stadium capture all the sound from the venue and send it to the console at the Dolby audio room at the Star Sports office. Additional audio can be derived from multiple sources such as recorded archive footage and slow-motion replay machines which are all mixed into the final output.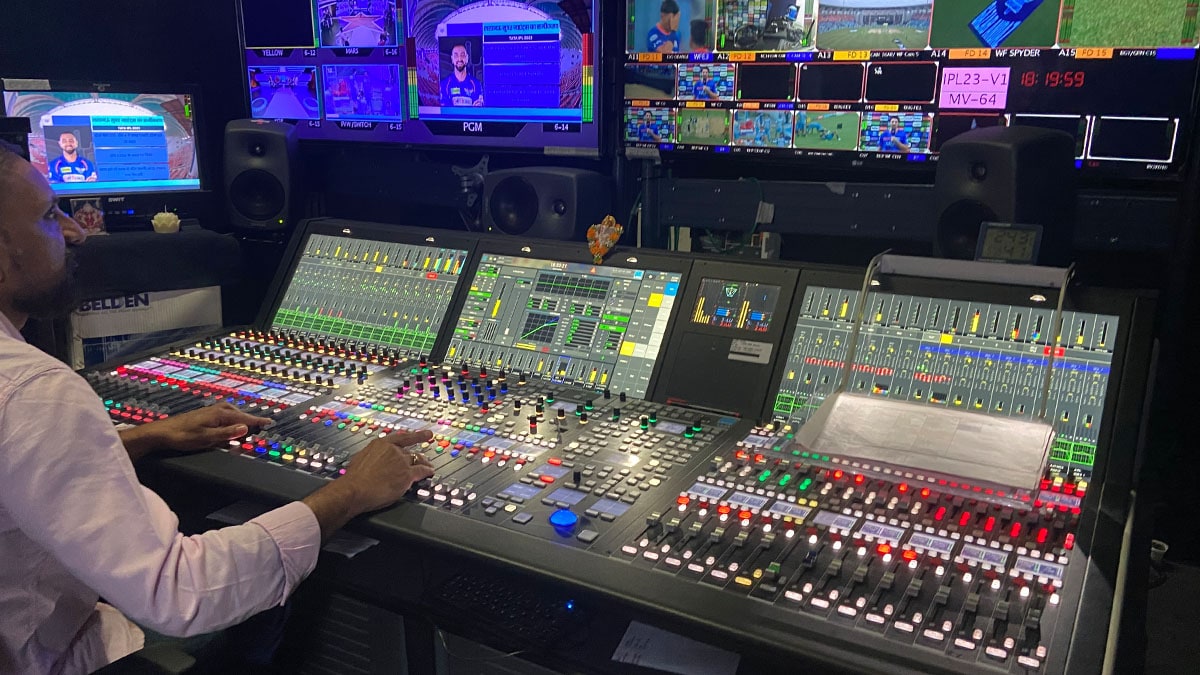 Image: Pranav Sawant/Techlusive
Then, the mix engineer in the Dolby Atmos audio mixing room works on the console to create an engaging mix that replicates the stadium presence as closely as possible. The creative freedom enabled by the Dolby Atmos format allows the mix engineer to create a balance between stadium ambience, on-field gameplay, and commentary. This ensures that on-field sounds and commentary are clearly audible even when the stadium audience is cheering loudly.
In terms of video as well, there are several cameras at the stadium capturing many things in a Live match. The Live video from multiple cameras then gets sent to the mixing room or PCR (Production Control Room) via fiber or satellite.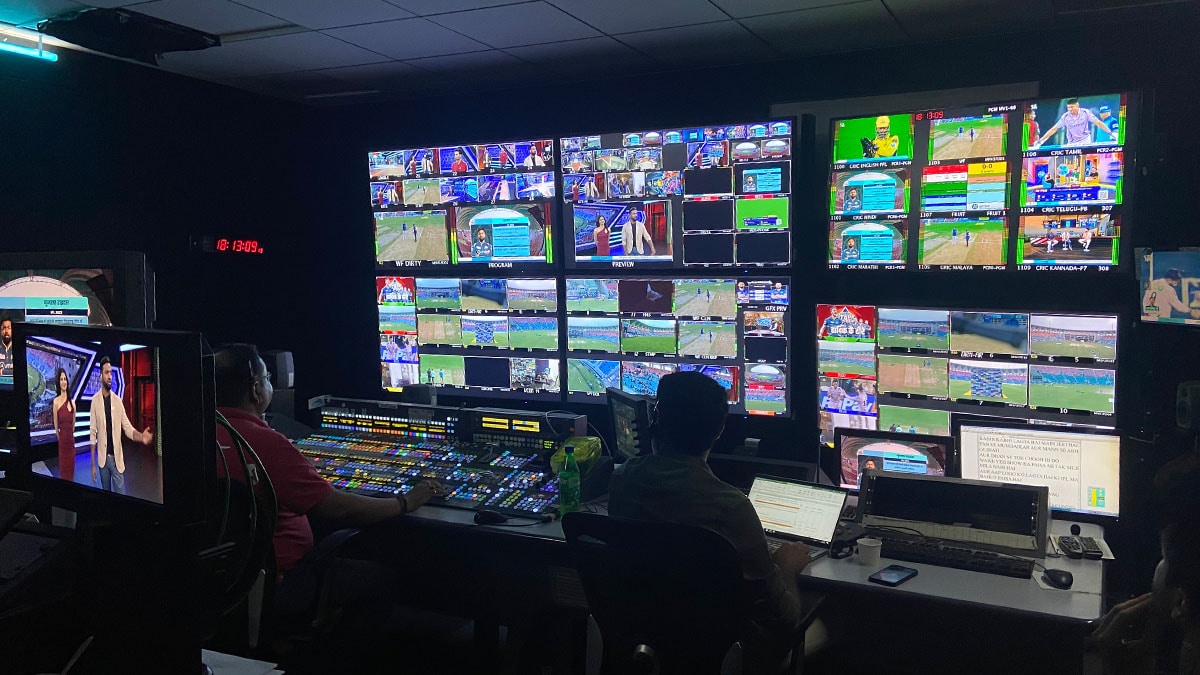 Image: Pranav Sawant/Techlusive
The director and the team at the PCR, which includes several members decide which camera to use and then switch between cameras, replays, and graphics to produce the final output. This is done in multiple PCRs, one for each of several different regional languages. Now, this is an interesting bit.
Each feed is customized for the regional "home" audience. For example, if it's a match between Mumbai Indians and Chennai Super Kings and the Mumbai team is winning, those watching the match in the Marathi language will get to see different visuals on the screen than those watching it in the Tamil language.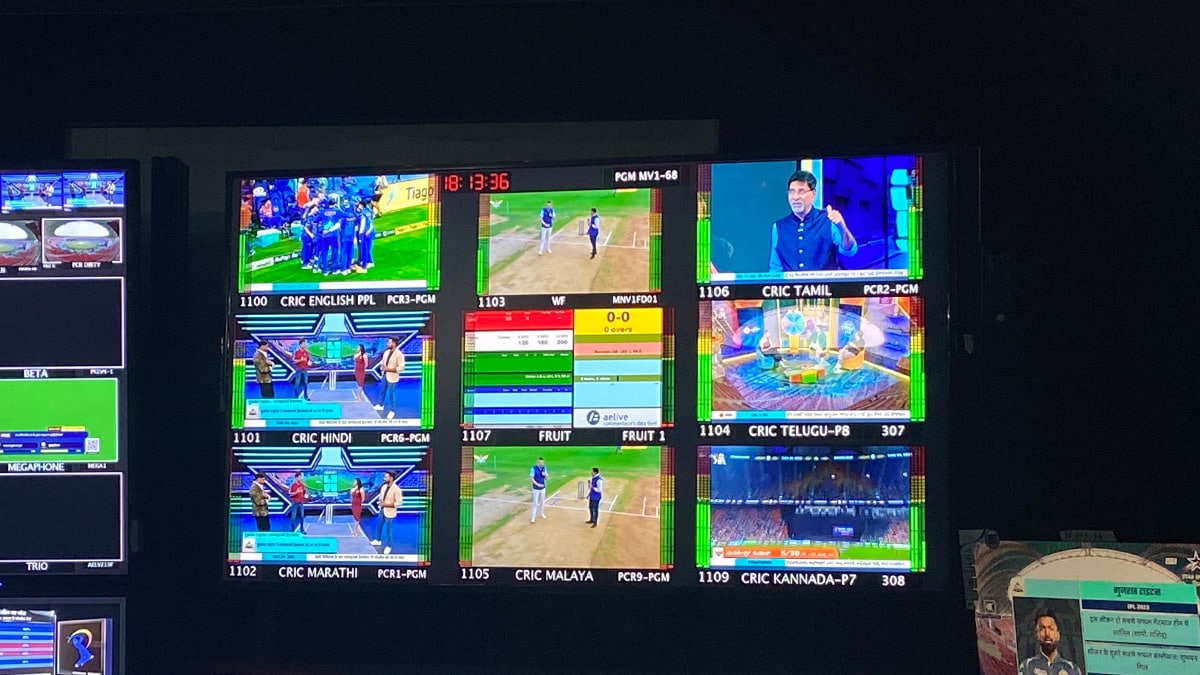 Image: Pranav Sawant/Techlusive
That's simply to ensure that the respective home audience can match the mood of the stadium for their supporting teams. The Marathi audience will see the visuals of victory and celebrations, whereas, the Tamil audience watching in the Tamil language may not be shown the visuals of Mumbai fans celebrating. Rather, they may be shown visuals about CSK, or be directed to the points table ranking.
What Dolby Codec is being used for sports like IPL on Star Sports?
Dolby Digital Plus is the codec being used for IPL on Star Sports, as said by Shah in the interview. This is the same codec used for matches in the preceding years when Dolby 5.1 was in use. This ensures backward compatibility with older systems which may be enabled only for 5.1 surround audio. Dolby Atmos simply requires a higher bitrate to accommodate the extra detail in the Atmos audio mix.
What hardware devices come into the picture for such audio mixing?
"A variety of mixing consoles can be used for Live Dolby Atmos mixing. In general, most broadcast consoles that can be used for Live 5.1 channel surround sound mixing can also be configured for mixing in Dolby Atmos. In terms of speakers, the monitoring can be done on any broadcast audio monitor. Only the number of monitoring speakers increases as we progress from stereo to 5.1 and Dolby Atmos mix monitoring. Any professional speakers used for Live mixing in stereo or surround sound can be used for Dolby Atmos as well," said Shah.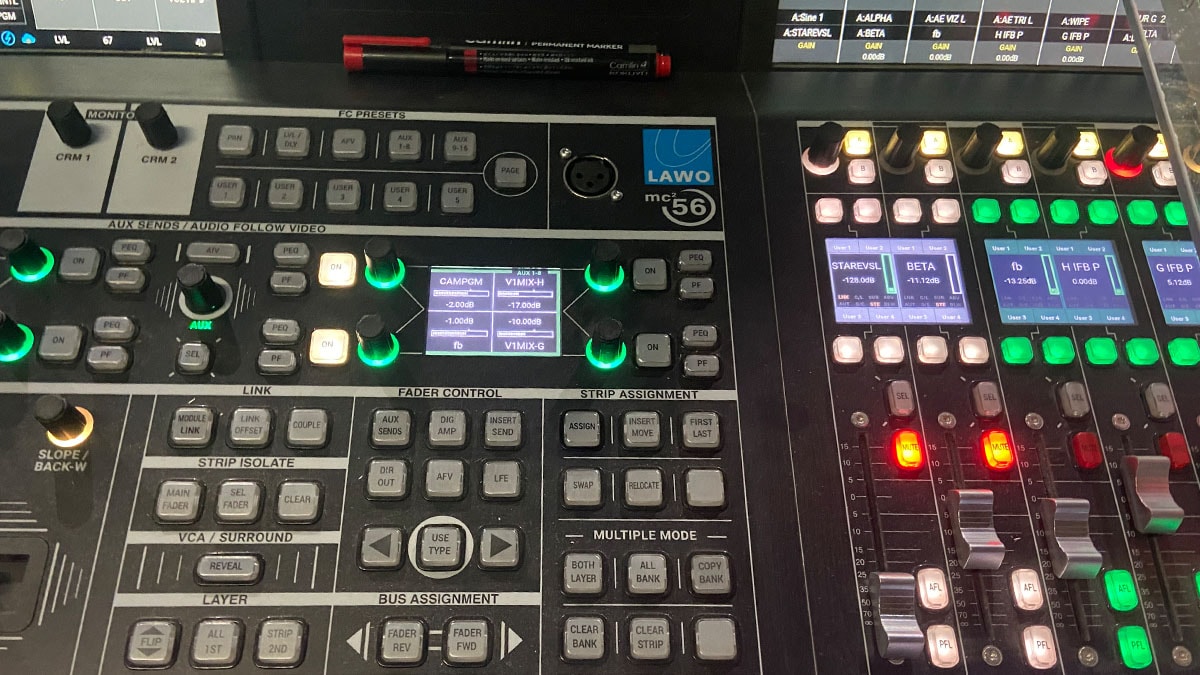 Image: Pranav Sawant/Techlusive
Currently, Star is using a Germany-based brand LAWO's audio console for sound mixing. It has set up GENELEC speakers for studio monitoring.
What do consumers need to enjoy this Atmos-enabled sports experience at home?
Shah said that thanks to Dolby Atmos, people don't necessarily need to have a fancy setup of multiple speakers.
Video: Traditional Stereo (two speakers), Surround Sound (5.1 or 7.1, requires multiple-speaker setup), Atmos (can work on two or more Atmos-enabled speakers).
Instead, the stereo speaker setup of any Dolby Atmos-enabled TV or Soundbar is enough to get an immersive audio experience for sports at home.
What does the future look like? Viewership stats
When asked this question, Shah said that on the audio front for sports like cricket, there's 'so much to do with Atmos'. It's about how much more can we capture from the microphones on the field.
"It depends on how far you want to go. Innovation has no limit, and we can keep adding more things to it."
Star gave us some official numbers in regard to its viewership on Star Sports. Star Sports saw a total viewership of 48.2 crores in the first 66 games, which is the highest-ever reach for any edition of IPL surpassing the previous highest registered in 2019.
---
---