The latest iPhone 14 will be down to its lowest price in the Amazon Great Summer Sale, which kicks off on May 4. Amazon India's website has put up a banner that claims you will be able to buy the iPhone 14 for as low as Rs 39,293. That is more than Rs 40,000 less than the original price of Apple's marquee iPhone model. A great deal, but not without its caveat. Also Read - iPhone 14 for under Rs 45,000 with all offers on Amazon: Deal
You see the Amazon deal has so many conditions. Let me break it down for you. Also Read - Apple supplier Foxconn acquires 300 acres of land near Bengaluru: What it means for iPhone production in India
The iPhone 14 will be available for the deal price of Rs 66,999, down from the original price of Rs 79,900. That is a discount of around Rs 13,000 on the iPhone 14. The rest of the offer includes a bank discount of Rs 375 for ICICI Bank and Kotak Bank users, a cashback of Rs 2,331 for users of Amazon Pay ICICI Bank credit card, an exchange value of up to Rs 20,000, and Amazon Pay Rewards of Rs 5,000. Also Read - Vijay Sales announces Apple Days sale: Check top deals on iPhone 14, MacMook Air, AirPods Pro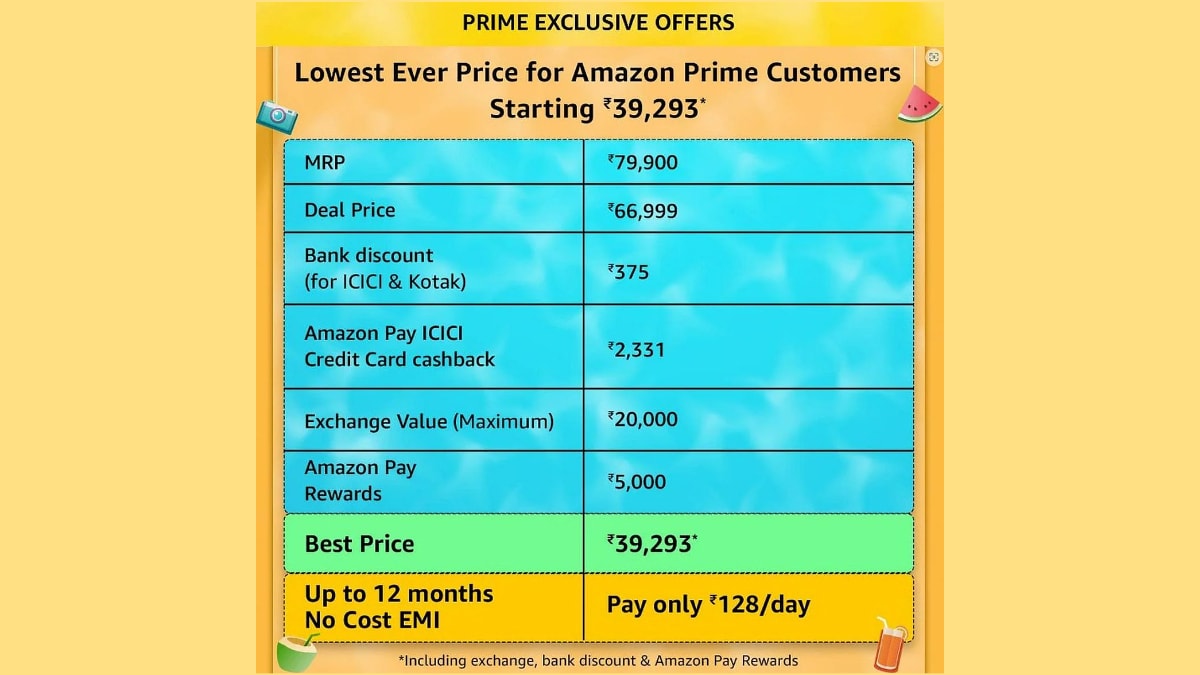 If you are looking to buy an iPhone 14, the upcoming Amazon sale is the best time to get it. But mind you, you are highly unlikely to get all the offers for your purchase. For instance, if you use a Kotak Bank card for the purchase, you will not be eligible for the Amazon Pay ICICI Bank cashback. In this case, the lowest value of the iPhone 14 will change. Another factor that will determine the lowest value of the iPhone 14 is the exchange amount for your old phone. The maximum value is usually given for high-end mobile phones, so unless you are planning to trade in an iPhone 12 Pro for a standard iPhone model, you should forget about the full value of Rs 20,000.
Despite all those caveats, however, Amazon's upcoming sale will offer the iPhone 14 at the lowest price. Amazon has also another offer for people who are not willing to pay an upfront amount for the iPhone 14. The shopping platform claims you can buy the iPhone 14 at Rs 128 per day, but there is no information on how this payment setup will pan out. But keep in mind that this deal is Amazon Prime Exclusive, meaning it will be available to Prime members only.
We will find out more about the iPhone 14 deal on Amazon in the coming days. The Amazon Great Summer Sale begins for Prime members in two days.
---
---