HP's new Pavilion x360 is a good example of a stylish convertible laptop that packs a lot for its price. The new 14-inch HP Pavilion x360 is not only a looker, but it also contributes to the environment with its body made of ocean-bound plastics and recycled aluminium. Away from the design, the Plus version brings a high-quality webcam, the latest Intel processors, and a touchscreen display that favours the creators' occupation.
HP's new Pavilion x360 is the company's new ultraportable laptop with an edge-to-edge glass display, which is great for watching movies and creating art. The touchscreen panel with stylus support is the icing on the cake. That means you could draw, doodle, and scribble using the bundled pen. And when you are not doing any of them, the HP Pavilion x360 offers amazing value with its comfortable keyboard, multiple connectivity options, and long battery life. So, it comes across as a reasonable pick for school or office work.
Sure, there are some downsides to the laptop, but if you overlook them, the HP Pavilion x360 is a good option for its price, which starts at Rs 78,199.
HP Pavilion x360 design and display
With the Pavilion x360, HP is looking at people who use gadgets to make art. It could be their occupation or just their hobby, the Pavilion x360 folds 360 degrees to give you the freedom to turn the laptop into a tablet just so the bottom part with the keys does not become a hindrance. Its well-defined edges give it a clean look, which I liked, but I think may be a bit formal for creators. My unit is Natural Silver in colour, which looks like a run-of-the-mill grey shade for laptops meant for business class. Don't get me wrong. The Pavilion x360 does not look bad, but HP could have tried thinking out of the box to give a theme that gives away that it's creators-oriented.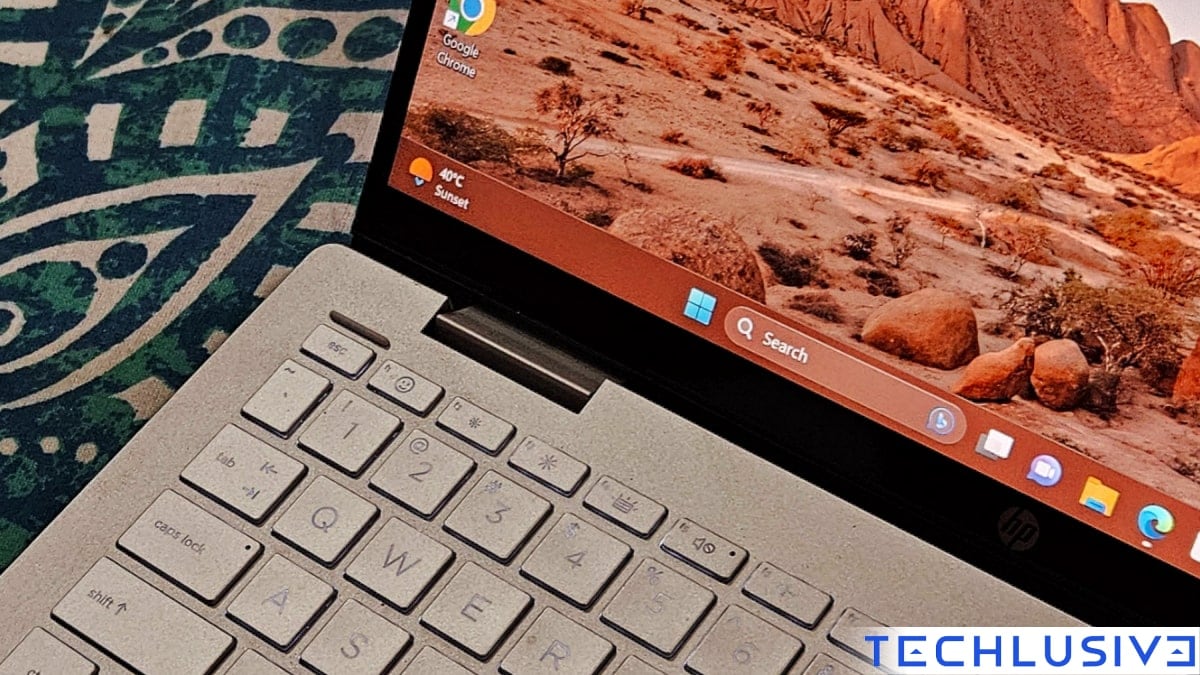 The sleek lid is sturdy and opens with just one hand. I like that attention to detail more than the fact that HP tried to cram a 14-inch screen into a lid that has very narrow bezels on the sides. Sure, the bezels on the top and bottom lessen the beauty, but there is a reason for that. When turned into a tablet, these black areas on the top and bottom bezels are where my thumb and fingers usually rested. That prevented mistouches.
I do not like big screens on laptops, so the 14-inch size is a sweet spot. This 1080p IPS display is sharp and most HD shows and movies look great. But I have a gripe with the brightness levels. As long as I was working indoors, I could not notice any downside to this beautiful touchscreen display. But the moment I took it on a drive with me on a sunny day, I was disappointed. The maximum brightness of 250 nits falls short, so I ended up providing shade to the display to be able to see something. Aggravating the lacklustre brightness is the glare on the display. I am not a photographer or an artist so it was not a big deal and just a one-off incident, but someone who is may have to deal with this issue. Try pasting an anti-glare screen protector, maybe?
HP's rechargeable pen works well with the touchscreen. The detection is almost instant, but I sometimes found the response was slightly delayed. So when drawing thin strokes, the pen would sometimes break the continuity. That was annoying even for me. Maybe a software update will help.
The size of the HP Pavilion x360 makes it ultraportable. The weight of 1.41kg favours that. The build quality is great, too. I accidentally dropped the laptop once but could not find any scuffs. Creators will like that the laptop is durable. It is also reasonably thin. That is despite multiple ports. The HP Pavilion x360 has one USB Type-C with a 10Gbps signaling rate and support for USB Power Delivery, DisplayPort 1.4, HP Sleep and Charge), two USB Type-A with 5Gbps signaling rate, one headphone/microphone combo, one HDMI 2.1, and one AC smart pin ports.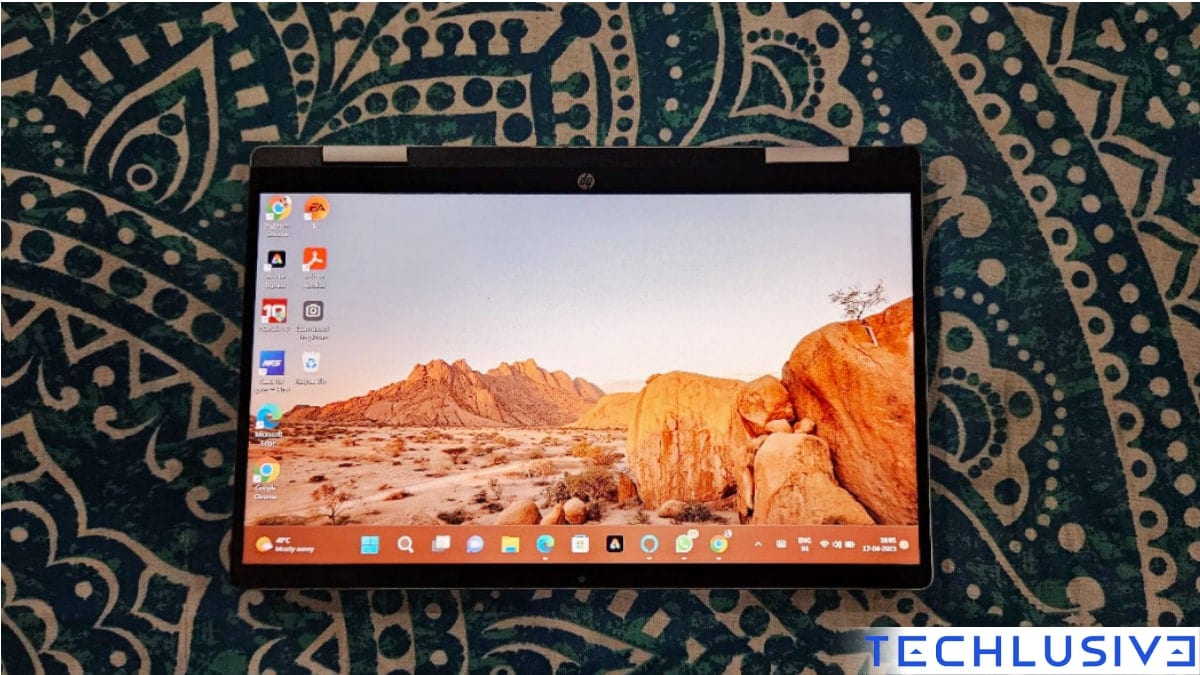 Since privacy is important to most of us, a manual shutter door lets you block the camera when you do not want to be seen. But when you do, HP's Pavilion x360 is one of the most-equipped laptops for video calls. The HP True Vision 5-megapixel camera offers a high-resolution video stream, so you are clearly visible on the other end of the video call. There are several add-ons, available through a dedicated app. But if you are like me and forget to tweak settings using the dedicated app, the HP Presence tool is integrated with all leading video calling services. These enhancements are available right where the video feed is — sometimes next to the native features of the video calling service you are using. Just like high video quality, HP has paid equal attention to the voice part. I used the in-built AI Noise Removal tool and I can say it made a difference to video calls. It can be great for people who are mostly attending virtual meetings. The integrated dual-array digital microphones help achieve that clarity in voice.
Speaking of which, the laptop has great connectivity. I am glad that HP was thoughtful enough to equip the Pavilion x360 with Wi-Fi 6E, which makes data transfer at higher speeds possible. Although, the bundled routers you get from your Internet Service Provider (ISP) may not support this latest Wi-Fi standard. You may need to invest in compatible hardware. But there are more advantages to this Wi-Fi standard. It rarely drops the internet connection. When not connected to my home Wi-Fi network, I used the mobile hotspot through the 5GHz bandwidth. Not once did I face internet problems.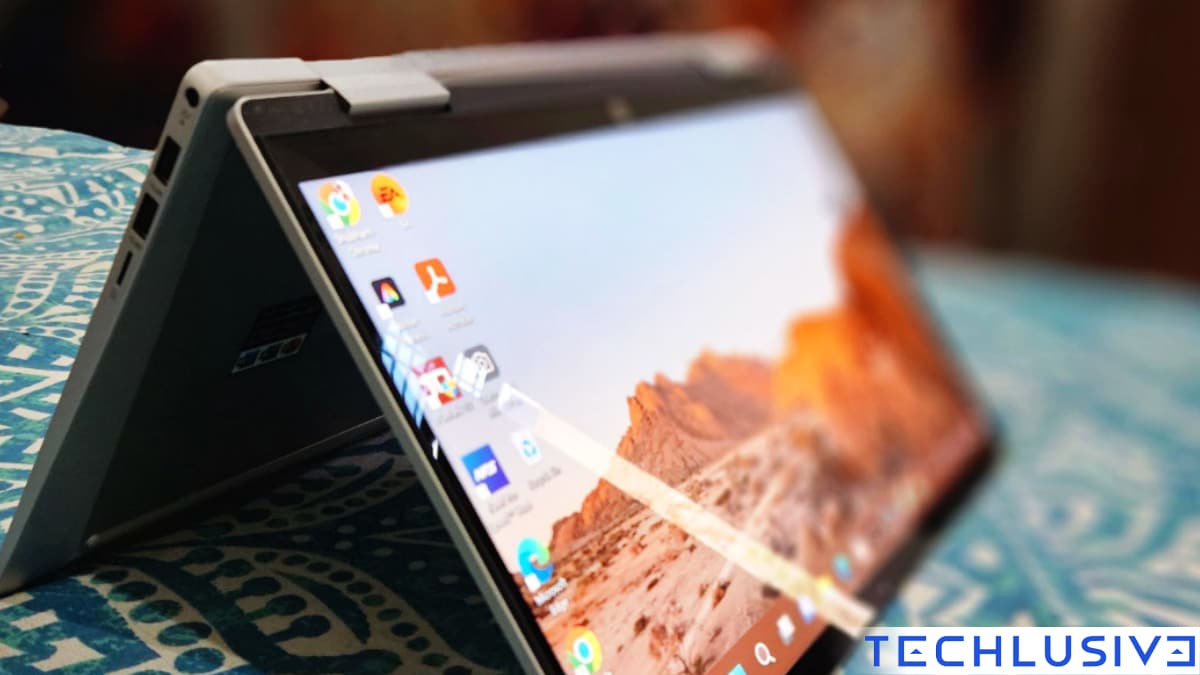 HP Pavilion x360 performance and battery
The 13th Gen Intel Core i5 processor delivers fast performance. It is not the fastest laptop you could find on the market, but it is sufficiently speedy for the kind of tasks you are likely to throw at it. As a creator, you could open multiple tabs in Adobe Photoshop or Lightroom without facing. I did the same and did not notice any visible lags. Then I tried my bread and butter. With more than 10 tabs opened in both Google Chrome and Microsoft Edge, my office work went as smoothly as it would on a good day and on a good machine. The 16GB of DDR4 RAM clocked at 3200MHz helps apps open fast and remain open for a long time. The pre-installed Windows 11 works fine and takes the usual time to boot.
The HP Pavilion x360 scored a maximum of 5,249 on PCMark 10, which is impressive. But here is the catch. Even though the processor and the RAM allow some, if not all, high-end games, the Pavilion x360 is not exactly meant for gaming, which is a shame. Held back by the lack of dedicated graphics, the Pavilion x360 is good enough for light games. It could not even run Need for Speed properly. If you are looking for a machine that lets you create artwork and play games for long hours, the Pavilion x360 does not cut it. But if you are a casual gamer, this laptop is worth considering.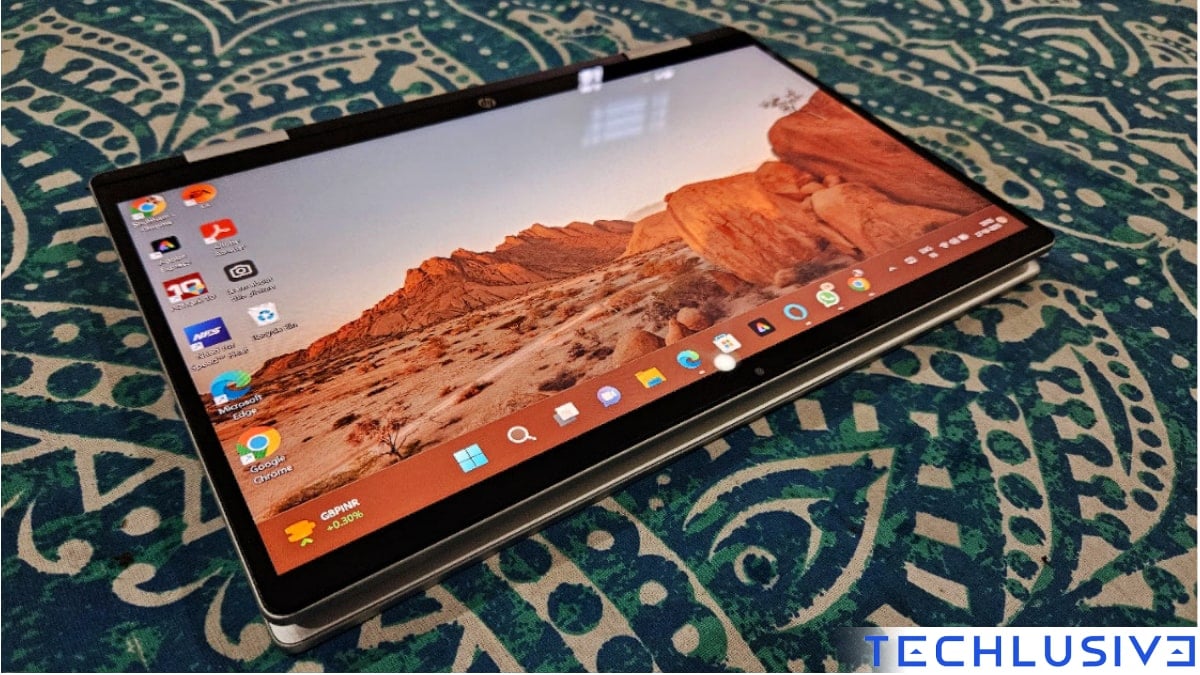 I like the HP Pavilion x360 keyboard. The keys are flat and have a certain bounciness to them, which makes typing not just convenient but fun. The keys are slightly larger than what I have used on most laptops, so it took me some time to get used to the new layout. But once I was all set, the HP Pavilion x360 became my favourite laptop for typing. I should mention that I am a key pounder and the keys worked well for me. The keys have a white backlight, which gives them a glow, but I sometimes found identifying keys a bit hard. I will tell you why. The white light against the silver paint does not offer a distinguished mark in a well-lit environment, so when I was still teaching my brain the keyboard layout, I often had minor problems. But this is just a gripe because when it was dark, my love for the keyboard returned.
The battery life on the HP Pavilion x360 is great. On a single charge, I got through a full workday, which is about 9-10 hours. But this is subjective to how you use the laptop. If you are consuming a lot of media, the battery life might suffer a bit. Using heavy apps for photos and videos will also affect this battery life. My usage was limited to writing articles, browsing the internet, and watching just an episode of Netflix's latest show Night Agent. I should mention that I did not watch any other show or movie on this laptop. That is because the Bang & Olufsen speakers are mostly quiet even at full volume. I struggled to listen to dialogues most often, which added to the underwhelming sound experience. That is a shame because the display is otherwise great for watching movies.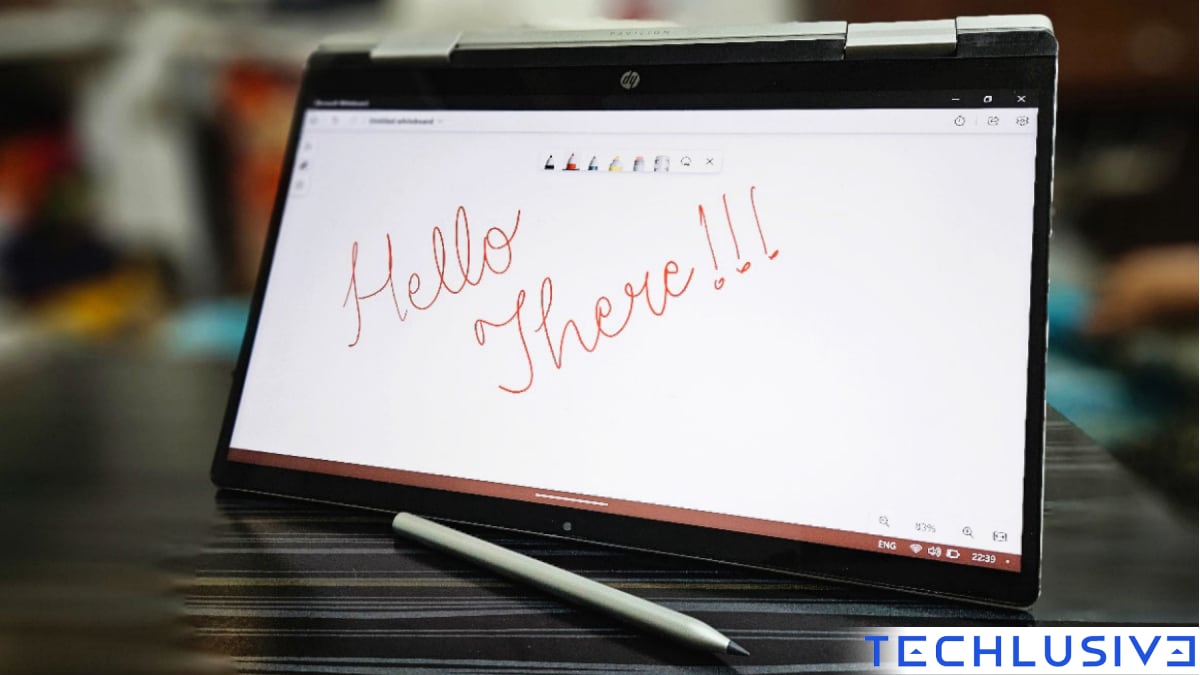 HP Pavilion x360 verdict
HP's popular Pavilion series is famous for its looks and versatility. The Pavilion x360 offers both at a good price. The sharp touchscreen display, fast processor, comfortable keyboard, and long battery life are among its strong suits. It is also one of the best machines to do video calls on. If you can ignore the downsides such as low brightness display and quiet speakers, the HP Pavilion x360 is a good option at around Rs 78,000.
---
---