Gmail will now show a blue verified checkmark next to senders' names to show the authenticity of emails, the company announced in a statement on Wednesday. This feature will have an impact on both- the sender and receivers. Also Read - Google Pixel 8 series: Here's everything we know so far
The full roll out of this feature will take three days starting May 3, 2023, and it is available to all Google Workspace customers, as well as legacy G Suite Basic and Business customers. In addition to this, the feature is available to users with personal Google Accounts. Also Read - Android 14 screen recording feature will let you leave out important notifications
A verified checkmark will be available to those businesses that have adopted Brand Indicators for Message Identification (BIMI) in Gmail. A checkmark next to a brand's name will automatically show in end users' inboxes. They do not need to make any changes in settings.  Also Read - WhatsApp's wants you to share more stickers: Here's what it plans to do
On hovering over the blue verified checkmark on an email, a prompt opens that says, "The sender of this email has verified that they own the domain and logo in the profile image."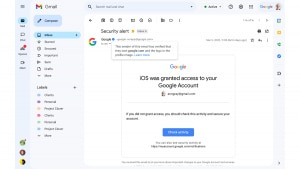 This checkmark will help users and email security systems to identify and stop spam and by using this feature senders can also leverage their brand trust. 
"This increases confidence in email sources and gives readers an immersive experience, creating a better email ecosystem for everyone," Google said. 
This feature was much needed in emails as scammers were impersonating banks and public utilities to trap and scam innocent people. 
For businesses to take advantage of this feature, they first need to adopt DMARC, which stands for Domain-based Message Authentication, Reporting, and Conformance. It helps mail administrators prevent hackers and other attackers from spoofing their organization and domain. Additionally, they need to validate their logo with a Verified Mark Certificate. 
After, completing the above-mentioned requirements, a business can set up a BIMI to get a verified checkmark in Gmail. 
What is BIMI and how it works
Google introduced BIMI in Gmail in 2021. It requires senders to use strong authentication and verify their brand logo to display a brand logo as an avatar in emails. BIMI leverages DMARC security checks to bring brand logos to customers' inboxes. With BIMI, users can also control their logos in emails.  
Verified checkmarks are in the news ever since Twitter decided to remove all legacy verified checkmarks on its platform and replace them with new paid checkmarks. Meta has also recently started its paid verification checkmarks.
In 2020, Nidhi Razan, a prominent Indian anchor, announced the opportunity that she got through an email from someone who claimed to be from Harvard University. In December 2021, she broke the news that her Harvard job offer was nothing but an email hoax. 
Scams through emails are very common in countries like India where people have less knowledge of cyber security. Verified checkmarks on emails will help people differentiate between scammers and authentic emails. 
---
---